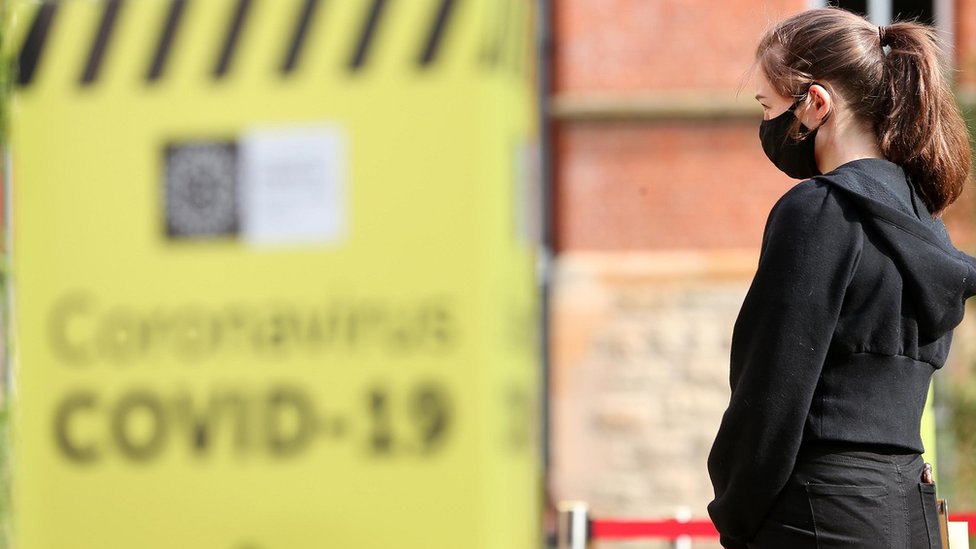 Parents are being asked to wear a mask on the school run in a bid to tackle a rise in coronavirus cases.
It follows reports that schools across the country are asking parents to wear coverings at school gates.
A letter sent to parents said social distancing at the school gates had been "difficult" for some so this would help slow the spread.
Some parents have criticised the decision and questioned why it has only been put in place now, two weeks into the term.
'Protect our children'
One, from Glen Hills Primary School in Glen Parva, said: "I realise that we need to do everything we can to prevent the spread of the virus but we've been dropping off and picking up for weeks now and nothing has been said until today. Why now? Why not at the start of term?"
Sonia Rai, 37, said her school, Launde Primary School in Oadby, had been asking people to wear masks outside the school since the start of the year.
She said: "It's a good idea, especially when hospital admissions and cases are going up. We need to do everything we can to protect our children."
Parents outside Ashby Hill Top Primary school had differing opinions.
Karen Blythe said: "They didn't ask us to do it before, I just don't see the point.
"If we were going into the school I would do it but when I am walking on a public path and not even entering the school gate, what's the point?"
But Claire McLaren said: "Totally agree 100%. I think everyone should be wearing masks if they are able.
"It's a good step in the right direction. I think it will make everyone safer."
Rebecca Shearer said: "I don't have a problem with it at all, any means of protection is worthwhile.
"We have to protect our children, we have to get the Covid rate down.
"It's not about following government guidelines, I'd do it anyway."
Oadby and Wigston reported the second highest rate of coronavirus infections in England after the number of cases tripled in a week, from 25 to 76.
The latest government data shows the district's rate went from 43.8 by 5 September up to 133.3 by 12 September.
Leicester City Council confirmed the decision was made in conjunction with Leicestershire County Council.
'Outside the box'
A spokeswoman for the city council said: "We are recommending that parents wear face coverings when they pick up or drop off their children at school.
"This is as an added preventative measure to help stop the spread of Covid-19 at a time when cases are rising."
She added it should help lower the risk where "social distancing is difficult" at school gates and was a "sensible precaution" for parents as infection rates in the area rise again.
A Leicestershire County Council spokesperson said the decision had been taken to "further support children's return to education".
"It is vital that children are in school, that schools are supported to ensure they remain a safe environment for children and we all play a part in preventing the spread of infection," they added.
The county's director of public health, Mike Sandys, previously said he does not see schools as a "hotbed" of infection, but did have concerns about the "outside the box" side of schools, including parents gathering outside of gates or going on play dates after pick up time.
The government
does not recommend the universal use of face coverings in schools
, however it added in areas where local lockdowns or restrictions were in place, they should be worn by pupils, staff and visitors outside the classroom – such as in corridors and communal areas – where social distancing was difficult to maintain.