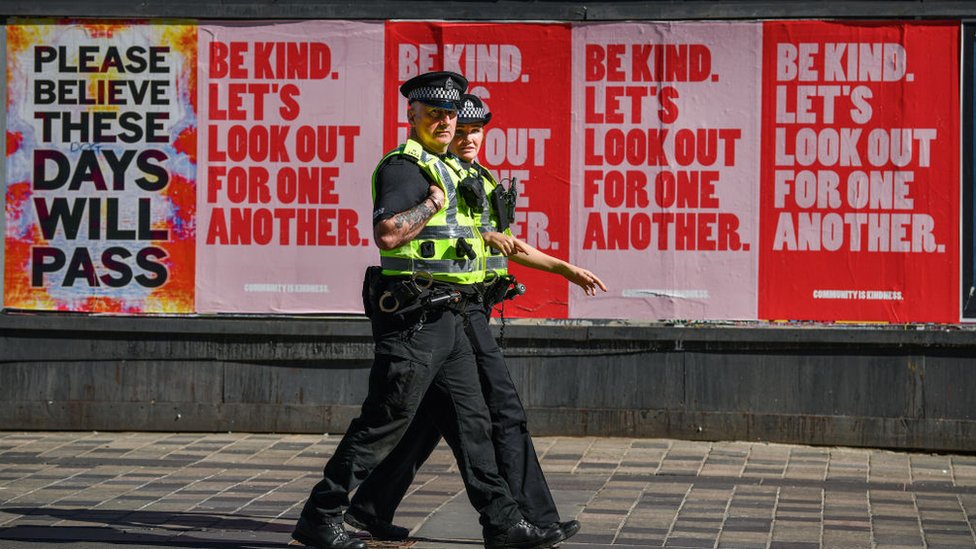 Police in England have new powers to fine organisers of large gatherings as much as £10,000.
In Scotland, police can now break up indoor parties involving more than 15 people.
What is the guidance for parties or other gatherings?
People should continue to limit the number of people they meet and "maintain social distancing",
In England, outdoor gatherings larger than six – but no more than 30 people – should only take place if everyone is from from two households, or support bubbles.
Individual nations in the UK can issue their own guidance.
In England, the guidelines say you should not:
socialise indoors in groups of more than two households, or support bubbles – including eating out and going to the pub
hold or attend celebrations (such as parties) where it is difficult to maintain social distancing
However, the guidelines are not legally enforceable.
So what does the law say?
The law in England says you are allowed to meet in a group of up to 30 people outside in a public place. This includes beaches, parks and streets.
If you break the law, police can now issue fines.
Organisers of illegal gatherings in England can be fined £10,000. This penalty came in after a number of house parties and unlicensed gatherings were broken up by police.
Those attending could get a £100 penalty ticket (£50 if paid within 14 days) – rising to £3,200 for six or more offences.
First Minister Nicola Sturgeon said the move was necessary because winter could lead to more indoor gatherings being held.
The laws in other parts of the UK vary.
Are there any exceptions?
Some larger formally organised gatherings are permitted within the law – but there must be written plans in place to minimise the risk of spreading coronavirus.
If police still think there are genuine dangers, they can stop the event.
In
England
, such gatherings include:
weddings, civil partnership ceremonies and funerals – although guidance suggests no more than 30 people should attend
religious ceremonies and services
community activities and support groups
Can police make me cover my face in a shop?
If you are in England, Scotland and Northern Ireland – yes they can, and you could be fined £100.
Shop staff and security guards have no formal powers to enforce the wearing of masks – so disputes may need to be resolved by the police.
In Wales, you don't have to wear a face covering in a shop.
You must wear a face covering on public transport in all parts of the UK, although some people are exempt – including children aged under 11 and people assisting those who rely on lip reading.
In England and Wales, up to 17 August, 46 fines had been handed out by police.
Can I be stopped from going to a public place?
In England, Health Secretary Matt Hancock has an exceptional power to completely close a specific public place.
Local councils have a
suite of powers
to close down premises, stop events and shut down places like parks.
These could be used to close beaches or beauty spots if there were concerns about crowds potentially spreading the virus.
What if pubs and cafes break the rules?
They could be forced to close if they cannot keep staff and customers safe.
The Health and Safety Executive can enforce closure if it believes there is a danger – for instance in an overcrowded factory.
Businesses that are open must show they have plans to reduce the risk of transmission – like a one-way system around their premises.
If a premises was the source of an outbreak, local public health directors could use a longstanding legal power to close it while the virus was tackled.
What about social distancing?
Public health guidance encourages people to continue social distancing.
However, many of the laws (which could have resulted in fines) have now been removed. At the peak of the lockdown it was illegal to leave your home without good reason or – when rules were being relaxed – gathering outside in groups larger than six people.
Up until 17 August, 21,865 fines had been given out in England and Wales, mainly for breaching the ban on unnecessary travel.
However, areas can still be put into local lockdowns. If this happens, new local laws can be created.